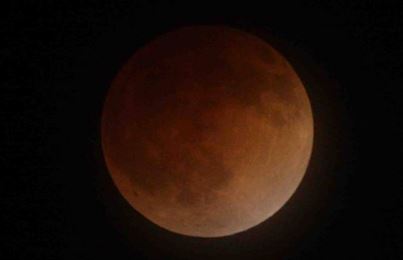 Look up at the Moon on the evening of January 20 to see the only total lunar eclipse of 2019. Visible throughout North and South America, this eclipse is being referred to as a super blood moon - "super" because the Moon will be closest to Earth in its orbit during the full moon and "blood" because the total lunar eclipse will turn the Moon a reddish hue.
Weather permitting, on Sunday night you can watch the eclipse beginning about 10:30 p.m. The total eclipse can (hopefully) be viewed from 11:41 p.m. until 12:43 a.m.
NEWTOWNALIVE.COM celebrates Newtown in Bucks County, Pennsylvania. Newtown has maintained its historical richness while becoming an energetic, culturally diverse community that is a wonderful place to live and to conduct business. Use our directories to area businesses, restaurants, music venues, and much more. Looking for something to do in Newtown or the rest of Bucks County? Our events calendar is always buzzing with thousands of events! Let NewtownAlive.com be your guide. READ MORE

Newtown was founded by William Penn in 1684, one of the towns created by Penn around Philadelphia to provide homes for city residents and extend agriculture. Newtown was he county seat from 1726 until 1813, when Doylestown became the seat because of its more central location. Newtown was incorporated in 1838 and has been enlarged three times since. In 1969 Newtown's entire central business district was placed on the National Register of Historic Places along with The Half-Moon Inn, Newtown Creek Bridge, Newtown Friends Meetinghouse and Cemetery, Newtown Historic District, Newtown Presbyterian Church, and George F. Tyler Mansion. Newtown is now known for its popular boutiques, colleges, cuisine, industry, and Tyler State Park, the most popular in the state. The Newtown Theater is the oldest operating theater in the country.

SHOW LESS
To sign up for our monthly email newsletter and/or weekly event email, CLICK HERE. See our NEWSLETTER ARCHIVES HERE.